KIA CAR CARE SERVICE AND OEM PARTS IN WEST PALM BEACH, FL
At West Palm Beach Kia, we are committed to helping our customers when it comes to purchasing or servicing their brand new or pre-owned car, truck, or SUV. Once you have bought your new or used car, our highly trained service department encourages you to get routine maintenance done so that your car will be around for the long haul. Whether your car is a brand new car or an older used car, routine maintenance like a simple oil and oil filter change, air filter replacement, and fluids, battery and brake checks, will help to keep your car around for a long time and will help prevent from having to have any major repairs done. Our expert mechanics are willing and ready to help you keep your car in working order at our convenient location at 735 South Military Trail in West Palm Beach, Fl.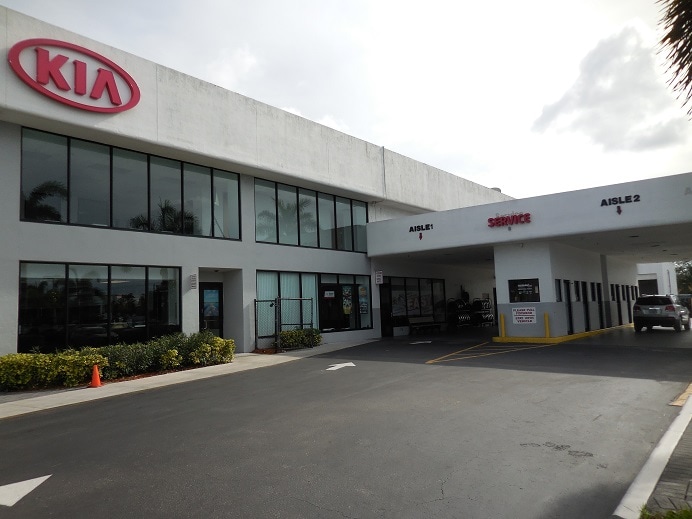 Schedule Service
WHY CHOOSE THE SERVICE AND PARTS DEPARTMENT AT WEST PALM BEACH KIA
When it comes to keeping your car around for the long haul and making any major repairs to your Kia car or SUV, we understand that you have a ton of options in the West Palm Beach and Lake Worth areas. Picking the right shop near you is equally as important as actually following the manufacturer's recommended maintenance schedule on your vehicle. The technicians in our service department are experienced and highly trained in using top of the line equipment and OEM parts that have been made for your vehicle. At our dealership, we want to keep our customers well informed so that there are no surprise fees. At West Palm Beach Kia, our highest priority in every one of our departments is customer service and we strive for excellence when it comes to customer satisfaction. We want to ensure quality work that can be trusted to extend the life of your car, which is why we made it part of our customer service policy. Our expert mechanics are able to make repairs or perform routine maintenance on all makes and models, not just Kia models. 
Some of the services that we can perform are:
• General Automotive repair
• Oil and oil filter change• Brake repair
• Spark plug replacement
• Belts, hoses and fluids inspection
• Tires, rotation and balance
• Transmission replacements
• Air conditioning and heater service
• Engine Diagnostics
• Headlights
• Starters
• And much more.
CONVENIENT AND QUALITY SERVICE AND PARTS AT WEST PALM BEACH KIA
We understand that our customers live pretty busy lives. We make it as easy as possible and super convenient to schedule your next service appointment right from home. You can use our quick and easy online scheduling form to find an appointment time that works with your busy schedule. Does your car need new Parts or Accessories? If you are looking at parts or accessories for your car or SUV and begin to have questions then do not hesitate to give us a call at (888) 471-1557. We are happy to help you with any Auto Parts and Accessories directly from our dealership or you can go on our website and fill out an online form in order to order parts you need to properly repair your car.  We are proud to serve the people of the West Palm Beach and Lake Worth areas with trusted, top quality service that all of our customers can depend upon.